How the Covid-19 pandemic affected the supply chain around the world.
The Covid-19 outbreak
The outbreak of the Covid-19 pandemic has led to a crisis of the global supply chain: ships stuck at sea, warehouses overflowing, trucks without drivers.
Businesses across the economy struggled to hire workers and they have reacted to shortages by ordering earlier and extra that has placed more strain on the system.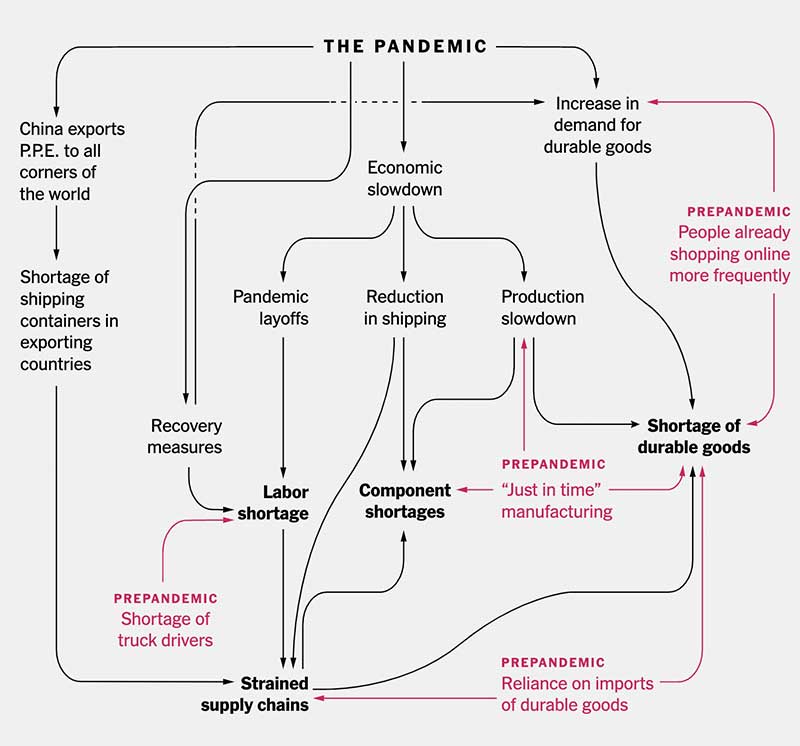 When the pandemic struck in early 2020, people and businesses were quickly forced to restrict their activity, sending the global economy into a brief but damaging free fall.
Under the model, called "just in time" manufacturing, companies stockpile as few raw materials and parts as possible, instead buying what they need as they need it.

The New York Times
China
With the closure of offices, stores and factories, companies laid off workers en masse. Moreover, there was a sudden need of surgical masks and other protective gear, made in China.
This led to a shortage of shipping containers in China.
United States
The spending in the United States was encouraged by government stimulus programs to resuscitate the economy.
As a result of the demand increase, a wave of factory goods swiftly overwhelmed U.S. ports. Swelling orders also outstripped the availability of shipping containers, and the cost of shipping a container from Shanghai to Los Angeles skyrocketed tenfold.
Online shopping
The many lockdowns in cities have changed the spending habits of entire countries overnight.
This has generated an increase in online sales.
Online shopping actually increased by at least 10 percentage points across most product categories, most notably: electronics, DIY, education, cosmetics, home goods, and pharmaceuticals.
The supply chain issue: what can we expect?
The supply chain has become a central political issue and it is likely to last for many more months — if not years. The emergence of new Covid variants during 2022 could accentuate some of the current pressures.
Despite some easing in recent months, international shipping costs are likely to remain high in 2022.
Sources: The New York Times, The Conversation, Ansa.
https://www.company.salbini.com/wp-content/uploads/2022/03/container.jpg
1280
1920
Carmela Salbini
https://www.company.salbini.com/wp-content/uploads/2021/02/salbini-logo-red-header.png
Carmela Salbini
2022-03-18 09:30:00
2022-03-08 12:02:08
Global logistics chain: the effects of the pandemic