Elegance in Design: Vismara's Journey of Respect, Wellbeing, and Innovation
Ambra Vismara's passion unveils the soul of a family-owned legacy, embracing beauty, progress, and a visionary future.
Respect, wellbeing, and innovation stand as the cornerstone values guiding Vismara Design, a distinguished company nestled in Seveso, within the northern Italian province of Monza Brianza.
Ambra Vismara, Export Manager and a pivotal force in the third generation of this family-owned enterprise, escorts us through the rich tapestry of the company's history.
For Ambra, the pursuit of beauty has always been an intrinsic part of her identity, making her a natural fit for a career within this realm where she radiates energy and passion.
Metamorphosis in elegance: The Dandy Billiard Table
Transforming the Dandy billiard table into a dining table is effortlessly achieved with a specialized top, offered in wood, lacquer, or wood essence.
Crafted in collaboration with the esteemed Bellavista&Piccini studio, the uniqueness of this piece lies in the impeccable harmony of form and function. The structure is luxuriously upholstered in leather, with the upper part of the pool table pockets featuring Canaletto Walnut or Makassar Ebony.
Dandy stands as a professional billiard table where essential design seamlessly merges with premium materials, resulting in a captivating blend of elegance and sophistication.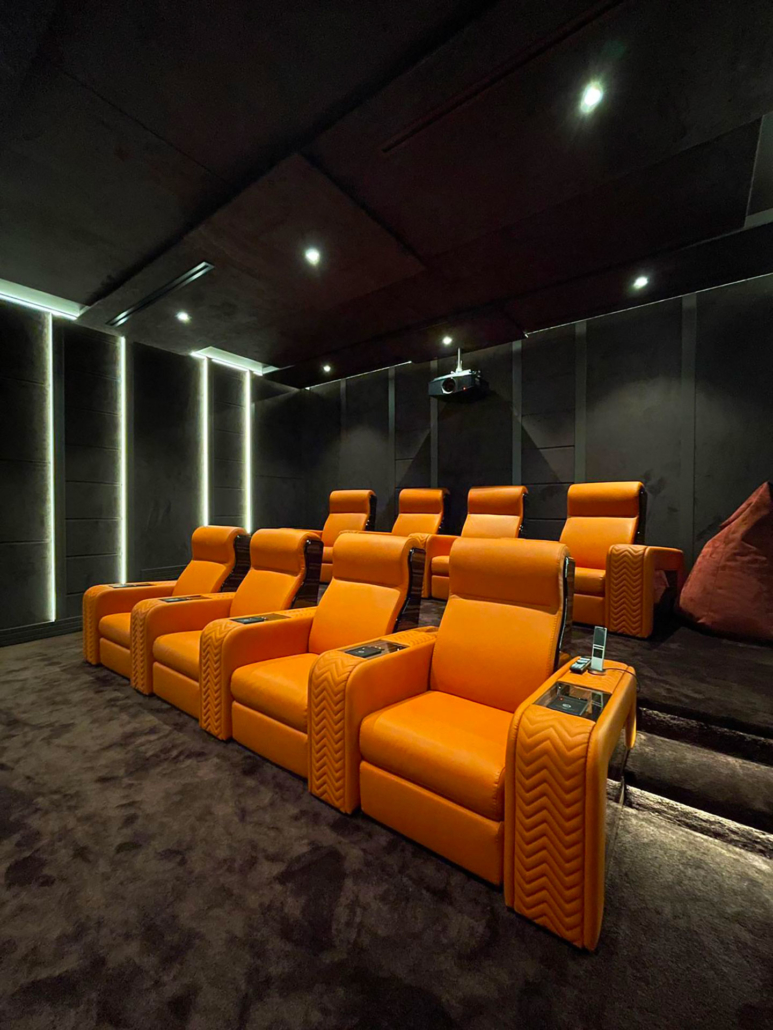 Cinematic Excellence: Vismara Design's Tailored Home Cinema Rooms
Home Cinema Rooms by Vismara Design are meticulously crafted from inception to completion, ensuring a bespoke and comprehensive experience.
Beyond personalizing finishes and upholstery for cinema seats, recliners, and modular sofas, the projects encompass acoustic paneling and cutting-edge audio and video systems.
Every detail is tailor-made to suit the individual customer's space and needs, guaranteeing an unparalleled cinematic experience. In addition to this, they offer built-in bar furniture, popcorn machines, candy dispensers, and electronic storage compartments, delivering on their commitment to bring your dream cinema to life.
Amidst the accomplishments already achieved, Vismara Design is set on reaching new milestones. The imminent inauguration of an expansive production plant and showroom, slated for completion by the close of 2024, is a testament to the company's commitment to continual growth and advancement.
This strategic expansion is poised to enable concurrent work on multiple projects, ultimately optimizing processing times. The envisioned developments not only underscore Vismara Design's authority and expertise but also signify a pledge to fostering an environment where innovation thrives, setting the stage for an even more remarkable future.
Special thanks to Giada Vismara for her amazing support!😊
https://www.company.salbini.com/wp-content/uploads/2023/11/Ambra-Vismara.jpg
579
1030
Miriam Bella
https://www.company.salbini.com/wp-content/uploads/2021/02/salbini-logo-red-header.png
Miriam Bella
2023-11-20 09:44:38
2023-11-20 09:44:40
Elegance in Design: Vismara's Journey of Respect, Wellbeing, and Innovation